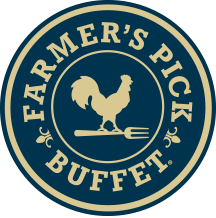 Local. Fresh. Flavorful.
Farmer's Pick Buffet® partners with local farmers and regional growers to bring you the freshest meals around. With ingredients this fresh and flavorful, you'll definitely be back for seconds.
If you like crab legs, we've got you covered.
Every night, all-you-can-eat crab legs. What more could you ask for?
Hot Summer Meal Deal
SEPTEMBER
Special Lower Prices
It's the best dining value in Black Hawk
Monday – Friday
Breakfast: 8:00am – 11:00am, $8.99*
Lunch: 11:00am – 3:00pm, $12.99*
Saturday & Sunday
Breakfast: 8:00am – 10:00am, $8.99*
Champagne & Mimosa Brunch: 10:30am – 3:00pm, $19.99*
Monday – Friday
Dinner: 3:30pm – 9:30pm, $19.99*
Saturday
Dinner: 3:30pm – 11:00pm, $29.99*
Sunday
Dinner: 3:30pm – 9:30pm, $29.99*
Plus, we're now serving breakfast seven days a week.
*Tax and gratuity not included.
Features
The menu is infused with locally sourced delicious herbs, vegetables and more. With over 60 delicious items to choose from on the buffet - from the freshest salad bar to our always changing carving station and Simply Yummy desserts – we offer something for everyone.
A Fresh Way To Buffet®
With more than 6,100 farmers' markets across the country, our Farmer's Pick Buffet brand uses locally grown items including produce, meat and eggs, to provide guests with true farm-to-fork dining.